Faith Costa
If you love clothes, you've probably heard of the brand LuLaRoe by now at some point or another... but have you tried them yet? After quite some time of wanting to, I finally got to connect with a LuLaRoe consultant, who I absolutely love! Michelle Kendall knows what she's talking about and has such great style. She helped pick out some GREAT pieces for me! We both strongly wanted to show that items that are more "body-con" cut can without a doubt, be pulled off by a curvy/plus size woman!
Here's what I tried out..
This gorgeous body-con is the "Julia Dress!" It was by far my favorite piece I got to try out! I really love this dress for several reasons...First off, this print is to die for. A good floral always wins over my heart!
Secondly, I love where the cut of this dress hits me on my legs and arms. It's flirty but still relatively reserved...Perfect for dressing up or down... Perfect for EVERYbody!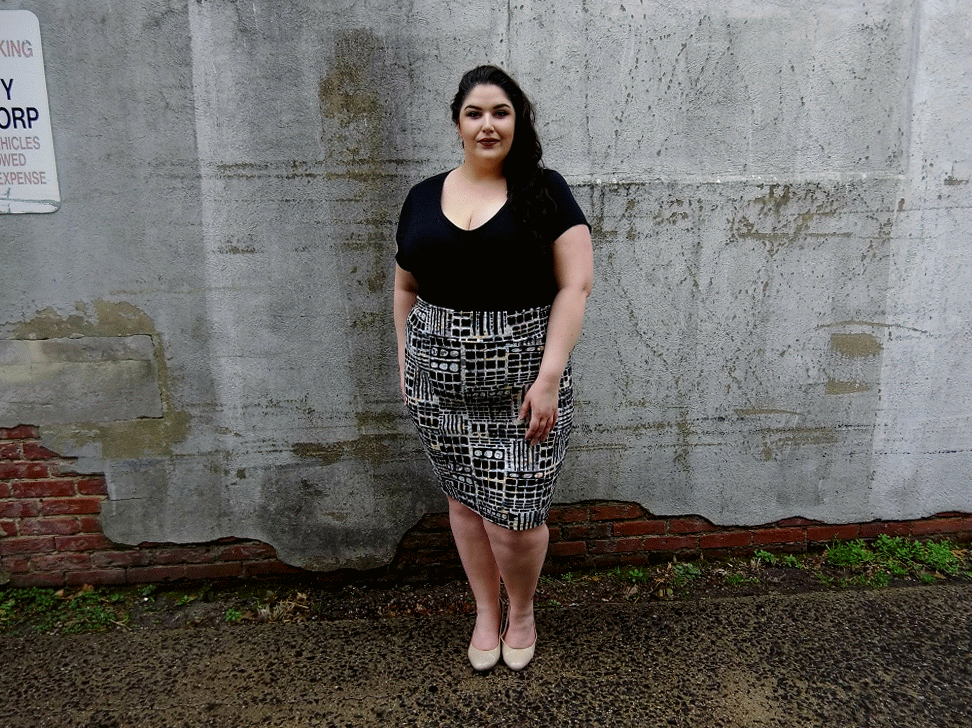 Again, another body-con that's a keeper! This artsy, pastel watercolor, mod geometric print is right up my alley! The length of this skirt is perfect just as the "Julia Dress" was.
This skirt could also be pulled up higher or down lower for several different looks. Isn't that what we all want? Clothes that are super diverse and can be worn multiple ways?
Plus, I mean come on... If this skirt wasn't meant for a Curvy Queen then I don't know what skirt would!
I then got to finally try the infamous LuLaRoe Leggings! I have been hearing about these leggings and how amazing they are for a very long time. I've heard the softness of them compared to butter and a kitten so I had very high expectations.
The verdict is in.. LuLaRoe Leggings are the softest leggings I've ever felt!
I paired these blue leggings with this LuLaRoe "Classic Tee" in this super cute paint brush stroke like print! (Go bold or go home... am I right?)
This tee is a definite closet necessity. I also tried it in this cool black and white print that also speaks to my style soul!
In addition to the blue leggings, I got these black and white geometric print ones as well that are very cool. I love mixing at matching prints so I thought it was only suitable to pair the black and white "Classic Tee" with them for a super comfortable, super grungy-artsy look!
I love a tee in a cool print that I can wear however I want. LuLaRoe really nailed it with these!
Overall I'd say I'm pretty happy! My favorite thing about the brand is probably all of the versatile prints and the size inclusivity. If you haven't already, I would highly suggest you try out LuLaRoe!
My consultant Michelle was so sweet and helpful. If you decide you want to look more into LuLaRoe, please be sure to shoot her a message! You can contact her via email at lularoemichellekendall@gmail.com, her Facebook page or her Instagram.
xx
---------------------------------------------------------------------------------------------------------------------------------------
Michelle Kendall LuLa Roe Consultant
Email: lularoemichellekendall@gmail.com
Facebook: www.facebook.com/groups/lularoemichellekendall
Instagram: @lularoemichellekendall
---------------------------------------------------------------------------------------------------------------------------------------
xx
(Although this post is sponsored, all opinions are my own.)
#personalstylist #personalstyling #plussizestyle #highfashion #fashionblogger #inspiration #ootd #style #effyourbeautystandards #plussizeblogger #model #fashion #fatshion #blogger #plussizemodel #bodypositivity #plussizefashion #plussize #honormycurves #LuLaRoe #bodycon